KX Trainer and KX Zenith
The Ultimate Guild Wars 2 Hacks
When it comes to the ultimate Guild Wars 2 hacks, KX Trainer and KX Zenith stand out as the best cheats available. Originating as a humble project in 2018, KX Trainer has evolved into a formidable tool with over 20 incredible features. Discover the power to unleash Guild Wars 2's full potential today.
Always up to date
KX Trainer is always up-to-date with the latest changes in Guild Wars 2 thanks to its advanced scanning methods.
Customizable
With KX Trainer's customizable hotkeys, unlimited config files, and other features, you can easily tailor the hack to your specific needs and preferences.
Cursor teleport
KX Trainer's cursor teleport lets you quickly navigate Guild Wars 2 by teleporting to your mouse cursor.
Invisibility
KX Trainer's invisibility feature makes you partially underground, improving your stealth and making it harder for enemies to detect you in Guild Wars 2.
Map teleports
Explore every corner of Guild Wars 2 with KX Trainer's map teleport. We've gathered coordinates for almost every location, making navigation a breeze.
Map making system
Easily create your own teleport files with KX Trainer's map making system. Personalize your Guild Wars 2 experience like never before.
Features Showcase
Discover Guild Wars 2 like never before with KX Trainer's intuitive and user-friendly graphical user interface, designed to make your gaming experience seamless and effortless.
Enhance Your Gaming Experience with KX Trainer
KX Trainer offers over 20 awesome features to enhance your gameplay experience in Guild Wars 2. With customizable hotkeys and config files, you can tailor the hack to your specific needs and preferences. Say goodbye to wasted time walking and hello to efficient, enjoyable gameplay.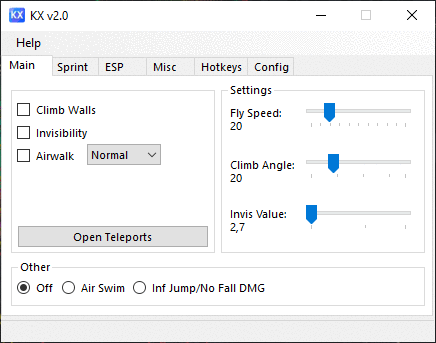 Unlocking the World with KX Trainer
Discovering every corner of the map has never been easier with our advanced teleport system. Load custom teleport files, create your own, and share them with our community to enhance your Guild Wars 2 experience.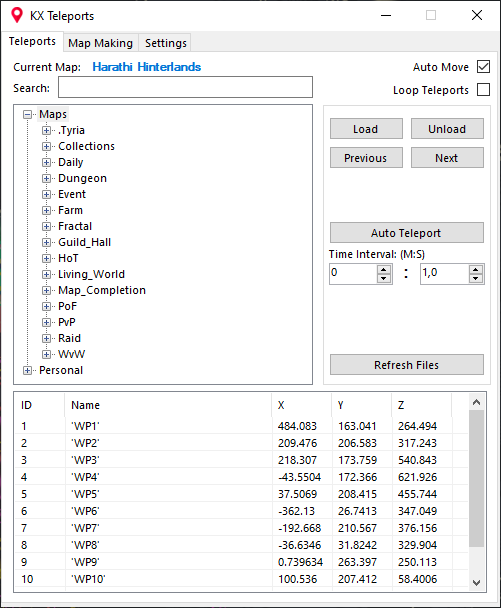 Introducing KX Zenith: Your Next-Gen Solution
Discover the future of gaming with KX Zenith, featuring advanced ESP, gear checking, node teleportation, no-clip, and a host of other cutting-edge features. Elevate your gameplay and gain a competitive edge like never before.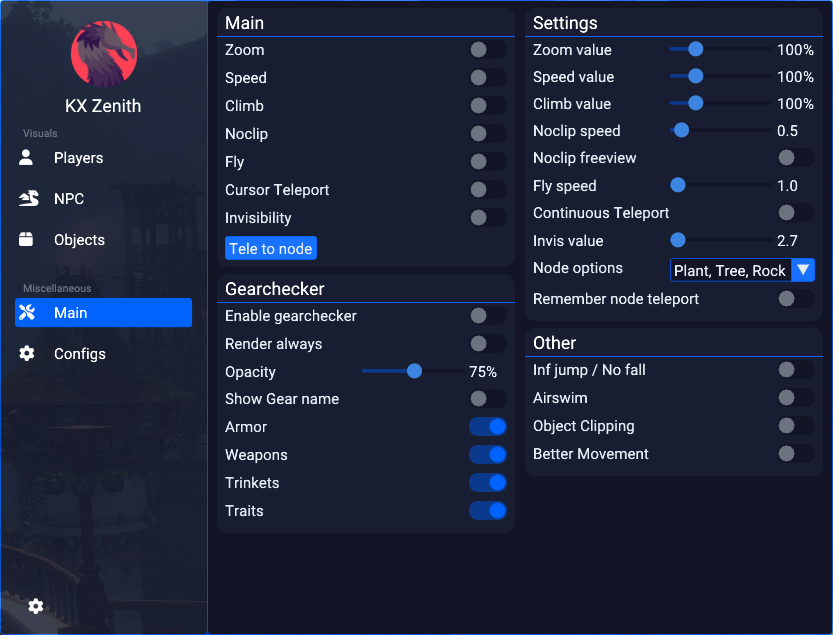 KX Zenith's Gear Checker: Analyze Player Stats & Gear
Unleash your strategic prowess with Gear Checker – your all-in-one solution for analyzing player stats, armor, weapons, sigils, traits, and trinkets. Gain a competitive edge by accessing comprehensive insights into your opponents' equipment and build an unbeatable strategy.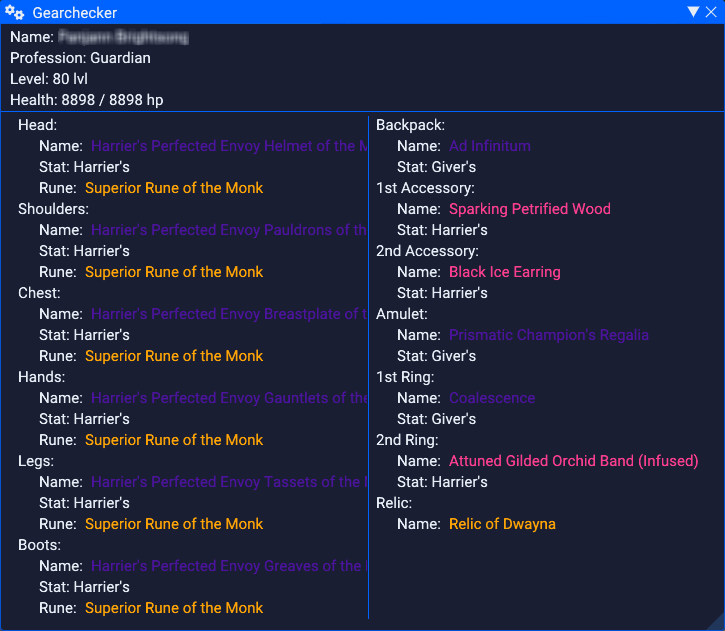 Choose the Plan that Fits Your Needs
Ascend to the pinnacle of Guild Wars 2 greatness by harnessing the power of KX Trainer and KX Zenith. Our cutting-edge hacks empower you to dominate the game like never before. Don't just play the game – take full control with KX Trainer and KX Zenith, and join the ranks of the most powerful players in Guild Wars 2.
KX Free
0
€
Our free version provides valuable features to test before upgrading to the paid version. While more limited than the latter, it enables you to experience our product and determine if it meets your needs before making a purchase.
What's included
User-Friendly GUI
Discord support
Advanced ESP
Map teleports
Map making system
Chinese version support
KX Trainer
29
€
/ Lifetime
Upgrade to the paid version of KX Trainer and unlock a wealth of advanced features at a price that won't break the bank. Gain access to powerful hacks that will give you an edge over your opponents, all without breaking the bank.
What's included
User-Friendly GUI
Discord support
Advanced ESP
Map teleports
Map making system
Chinese version support
Step into a world of unparalleled gaming capabilities with KX Zenith. Unleash the power of advanced ESP, harness the strategic advantage of the gear checker, explore freely with teleportation to nodes, and break boundaries with no-clip.
What's included
User-Friendly GUI
Discord support
Advanced ESP
Map teleports
Map making system
Chinese version support

As a game hack developer myself and a GW2 player for 8 years, I can only highly recommend Krixx's KX Trainer. It's a universally powerful tool which allows a high variety of manipulation. Unlike other bots or trainers for GW2, KX is very reliable and 99% patch proof. Krixx is very active - should anything ever break which has not happened for a very long time, a fix will be deployed swiftly. He also listens to community feedback. One very strong selling aspect is that compared to other tools that charge monthly, KX is extremely cheap for the value you get as it is a one-time purchase. Overall, I can confidently say that it's the best hack for GW2 in years. Read more...
- Eizen

From a noobish 20g a week, raised my gold generation to about 100g (and even more) at less time and even less effort. Blazed from 65 to 196 mastery rating in less than a month. Well worth the price if you look at actual time-to-gold savings.
- Nullifier

KX is since its launch one hell of a tool. There is no real competition you may ask why that is? Because everything they have we have as well but better. With so many features and stuff you can do, it's the best tool around. 10/10
- Bloodmagicball
Contact
Before sending us an email, please check our FAQ section for any questions or concerns you may have about KX Trainer. We're always here to help, but you might find the answer you need in our FAQ. If you don't, feel free to get in touch with us anytime by email, and we'll be happy to provide you with the support you need.